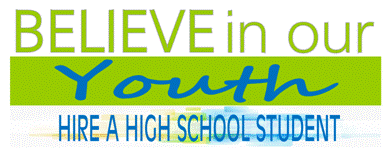 The Restigouche Entrepreneurship Centre in collaboration with Jeunesse Restigouche Youth decided to create this initiative to help entrepreneurs become aware of the importance of believing in our youth by hiring a High School student in order to help slow down youth exodus.
This initiative will not provide employer wage subsidies to hire a student; however, it will allow entrepreneurs to make a difference in their community by being proactive with regards to a challenge that our region is attempting to overcome – youth exodus.
We believe that if several entrepreneurs and organizations hire HIGH SCHOOL STUDENTS, it will allow our youth to believe even more in our region. We must make them aware of the opportunities that are available to them before they leave to pursue their post-secondary education.
It is by working together as individuals that we are going to make a difference – so why not you? Help our communities prosper and be a part of the change that we want to see in our region!
Contact us to get this free sticker, if you already hire a high school student, or if you plan on hiring high school students:
Sign up now for this years' "Volunteering, it's COOL" program! Click here for the registration form!

Check out this new video highlighting our beautiful region!
Click here!